"The porch wraps around to a screened area in the back perfect for entertaining."
The front of this home offers a Charleston appeal with a front porch and side gazebo. The porch wraps around to a screened area in the back perfect for entertaining. The Avalon's wide entrance leads to a family room with a coffered ceiling and a dining room with a double lighted tray ceiling.
The study and master bedroom also offer lighted tray ceilings. The master suite also includes an oversized shower and his and hers vanities. This home also offers a guest suite and optional double bonus rooms upstairs.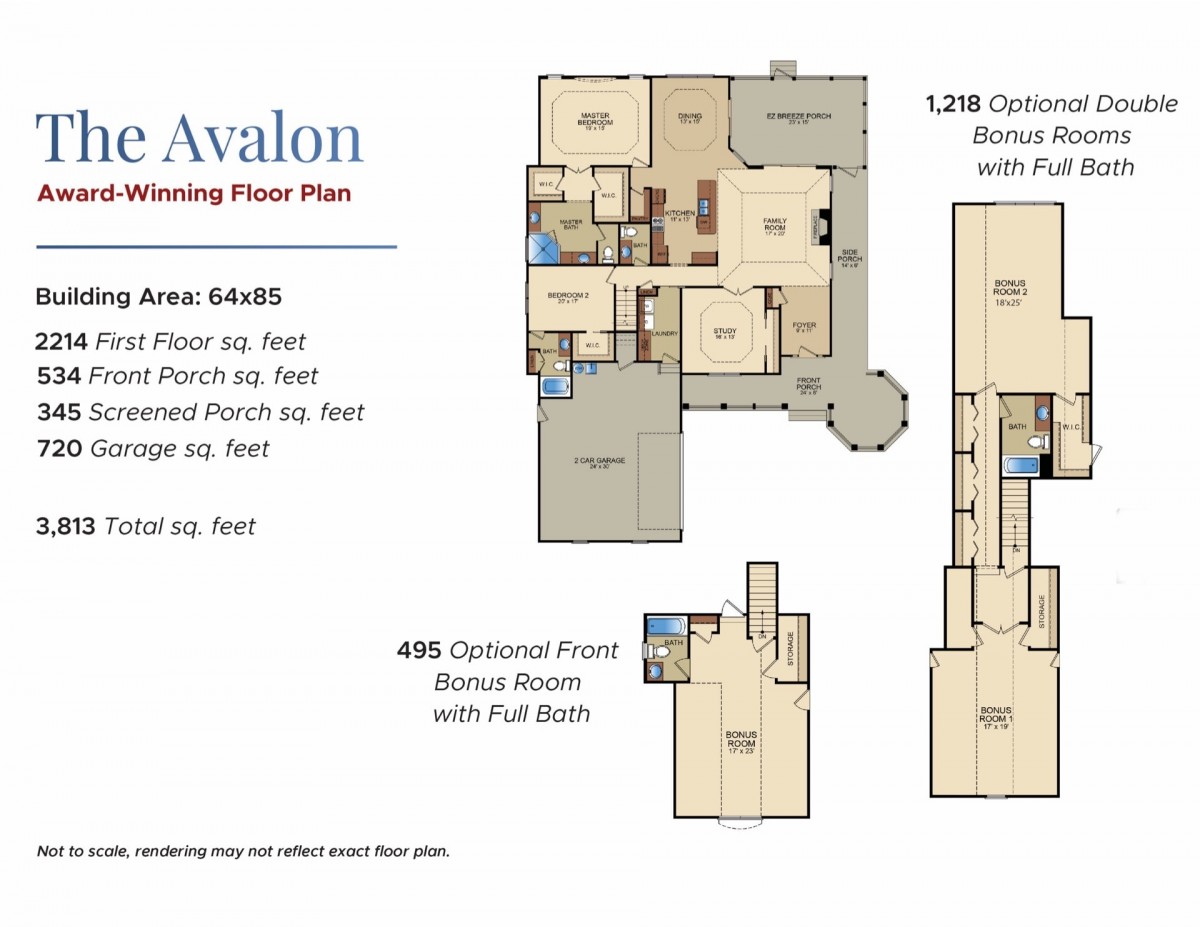 Bathrooms: 2.5-3.5
Building Area: 64 X 85
Ceiling Height: Up to 13'
Floors: 1-2
Every Liberty Home can be customized to meet the needs and wants of your family.  We set the bar for standard features that are a part of every home we build.  All of the other details are up to you, with the help of our fabulous builders and interior designer!
Our Homeowners are saying
"We met with several other builders working in Compass Pointe before meeting with Liberty and I can honestly say we made the absolute right decision."
Mike & Lee Wood
PROUD OWNERS OF A WEDGEWOOD STRATTON
"From our first contact with Roger James during a Discovery weekend, through the design and construction process, and during the first year in our new home, we have been thoroughly satisfied with all our interactions with Liberty Homes staff. Our new Palmetto was built on time, within budget, and with all of the features that were in the model home."
Hai & Terry Hill
PROUD OWNERS OF A PALMETTO
"He [Roger] allowed us to create our individual, one of a kind home. All the options we chose were implemented by a superb team of staff and employees.  We would highly recommend Liberty Homes to anyone considering building a new home."
Hervé and Debbie Le Guilloux
PROUD OWNERS OF A BISCAYNE II
"Our 3 1/2 year old home in Waterford built by Liberty Homes sustained zero damage during the hurricane. No lost shutters, no lost shingles, no lost siding, no leaks! In fact, while we were inside, we could barely tell that anything was going on outside! Thanks Roger!"
David & Maggie Jones
HAPPY CLIENTS AFTER HURRICANE FLORENCE
"We have a 12 year old [Liberty] home. We lost 5 hip ridge shingles on our home. That's it! Roof is fine. The windows are fine. No leaks No flooding. Amazing construction! And All of our neighbors sustained damage. Shingles and leaks galore. They don't have Liberty Homes. We will never use a different builder!!!!"
Reynae Miller
HAPPY CLIENT AFTER HURRICANE FLORENCE
Be the first to know about our latest Homes, learn interior design tips and a whole lot more!
*Don't worry, we hate spam too! We promise not to share your email with anyone.